Accessing Library Resources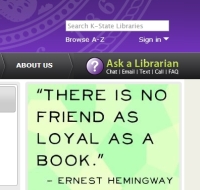 Fig 1: Library Sign-In Link
With ubiquitous networking, more and more of us work from off campus locations. It doesn't matter if you are at home, in your favorite Aggieville coffee shop or on sabbatical on the far side of the world, you still have access to journals and databases of the KSU libraries.
There are at least three ways to reach these special resources remotely: log into the library web site, use a Virtual Private Network, or use our Remote Desktop Services.
First and simplest, you can just surf to the library, pick an e-journal or a database, and if permission is needed, the web page itself will ask for your University eID and password. If, for some reason, the page does not prompt you to log in, you can do so manually by clicking the "Sign In" link at the top of the library page (just under the search box, as seen in Figure 1). Once you are logged in, you should be able to read articles and dowload PDFs just as if you were here on campus.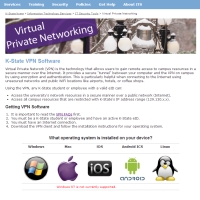 Fig 2: KSU ITS VPN Page
The second technique is more general, and can get you access to all University-unique services, such as software site license servers. This requires using the University's Virtual Private Network (VPN). You can download the software and read complete instructions at the Information Technology Services site (see Figure 2). The Cisco VPN client software is available for Windows, Mac, IOS, Android and Linux platforms. After installing the Cisco software and reading the Frequently Asked Questions document, you can log into the University VPN and all KSU services will be available to you, just like you were here. For the library, then, you just go to the web page and read whatever you want with no further login required.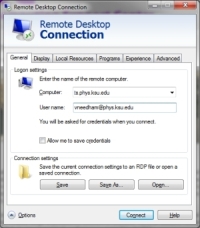 Fig 3: Remote Desktop Login
The third technique is to use the Physics Department's Remote Desktop to reach the library. This might be a bit cumbersome, but it's bullet-proof and it gives you access to your local files. We have a separate tutorial on how to use Remote Desktop. Once you log in here remotely, you just open a web browser, go to the library, and you're good to go (see Figure 3).
Details about the Kansas State University Libraries can be learned from the "Ask A Librarian" service. More about VPNs and eIDs can be found from K-State Information Technology Services. Tutorials about using Physics computing resources are found right here at the Physics Computing Support Center.