Advertised Programs & Installing Software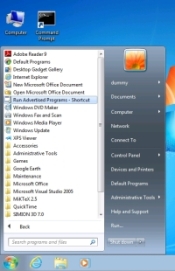 Fig 1: Find "Run Advertised"
Most of the software necessary for Physics personnel is already on your computer; the full Microsoft Office suite, for example. Certain other programs require a user-specific installation step, though, and those are generally installed by the user from "Run Advertised Programs". It is also possible for users to install their own, specialized software by requesting a special, temporary administrative password to their machine.
Run Advertised Programs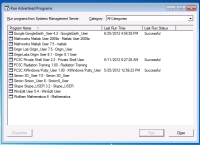 Fig 2: Advertised Programs Window
To see a list of software that you are eligible to install, first find and launch "Run Advertised Programs" from the Start Menu (see Figure 1). This will open a new window containing a list of all the software packages available to you (Figure 2). Which packages you see depends on who you are and what research groups you belong to. Much of our specialized software is licensed and expensive, and is therefore only available to the paying clients.
Any package that you have already installed will have a date of installation listed. To add any other package, just double-click on it. Your computer will rumble and blink for a few seconds, and then the install is complete. You usually won't see any special installation windows or be asked anything - it just happens.
On occasion "Run Advertised Programs" might appear blank, not offering any programs at all. If your account is new, just wait a half-hour or so and try again. If you're an existing user, then please contact PCSC and we can force the installer to update for you.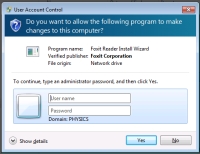 Fig 3: Enter Special Credentials
Temporary Administrative Credentials
You might want to add some particular, specialized program to your computer for your own, personal use. Usually you can't do this because administrative privileges are needed to install software, any your user account doesn't have those privileges. Rather than take up PCSC personnel's time, we can issue you a special set of local administrative credentials designed just for this. Send a request to PCSC explaining what you want to install and where, and we'll send back the special credentials.
What we send you is a temporary password for the local administrative account called "ladmin". Note that this is not a login account; you can only use it when prompted for credentials during an install. Log into your computer as yourself and start the installation process (usually just double-clicking on a file you have downloaded to a local drive). When the computer recognizes that special permissions are required, you will be prompted for the administrative credentials (Figure 3). Enter just ".\ladmin" or "Name-Of-Computer\ladmin" and the password that you were sent, where "Name-Of-Computer" is obviously the name of your particular computer. You should be able to continue the installation as normal from here. Note that both the source install file and the target folder for the application must be on your local computer, not the desktop or a networked drive.